'A happy, welcoming school in which pupils blossom.'
These were the words of HMI Joanne Olsson during her feedback to the Governors and Leaders of Webster at the end of her inspection in January 2016, and we were delighted to hear them. Similarly, in 2019, lead Ofsted inspector Lenford White noted the warm and welcoming atmosphere, how school is calm and purposeful, and quoted a pupil who told him that people here are judged for their personality, not for what they look like. Ofsted have graded us as consistently good in 2007, 2011, 2016 and 2019 and noted several outstanding features on each visit.
If you are not familiar with us, we are a very popular and all-inclusive school in Moss Side, Manchester. We welcome children of all races and faiths, languages and cultures, and are well known for doing so.
During staff and Governing Board training events we have taken the time to debate what qualities we want our children to have when they leave Webster, and how we can make this happen. Here are our thoughts: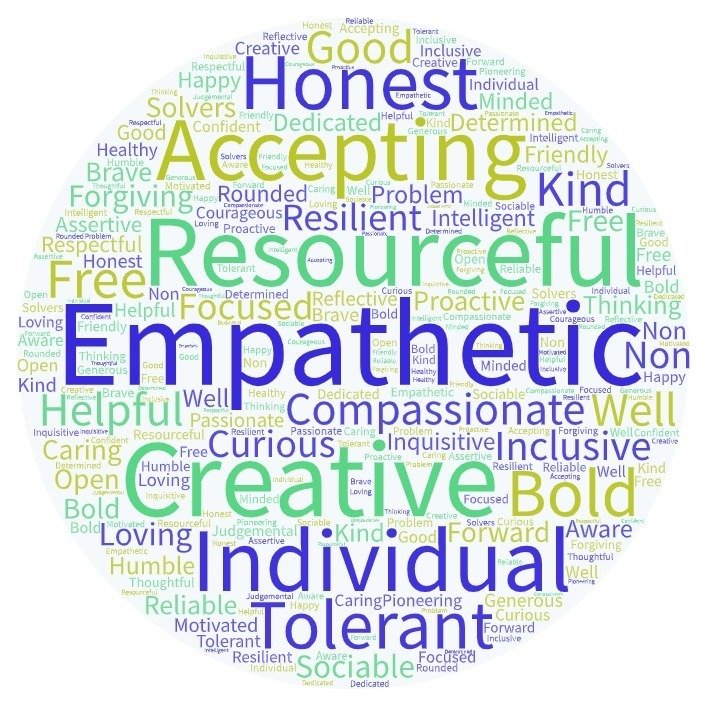 We welcome many new pupils each year and children who remain with us always achieve very highly. In the 2022 KS2 SATs, for example, 91% of these core pupils achieved the expected standard in Reading, and 94% in Maths. Our 2015 SAT's results placed us 1st of all Manchester schools in Reading, Writing, Maths and Combined Subjects, and 7th nationally, of all 21,310 schools in England for Value Added Pupil Progress for Combined Subjects.
Just as importantly we are well known for the breadth of our curriculum and the range of experiences that our pupils engage in. We are one of very few schools nationally (27 at the time of writing) to hold The Arts Council of England's Platinum Artsmark (achieved twice). We offer an unrivalled range of music and art opportunities and support other schools to develop their work in these fields.
We have a strong focus on developing pupils to be good people (one of our favourite terms) and leaders of the future. Themes such as our Unicef RRSA (Silver Level) work and our Relationships education which culminates in Year 6 pupils learning lessons from the Holocaust in partnership with the National Holocaust Centre & Museum provide strong evidence of this and are reflective of our everyday work over a long period.
We are a very outward facing and collaborative organisation, having held the British Council's International School Award continuously since 2007, demonstrating a curriculum and approach which actively celebrate diversity. While we pay rigorous attention to the core skills of English and Mathematics, most other subjects are taught through exciting cross curricular themes. We have long been shaping the curriculum that is right for our own school community, using partnerships with an incredible range of external cultural organisations to enrich the school day.
We have particularly special relationships with Manchester Camerata, one of Europe's leading Chamber Orchestras, and several visiting instrumental tutors and Artists in Education, and we promote a wide range of trips and enrichment activities to add further depth and colour to our curriculum. In recent years we have worked in annual partnership with Whitworth Art Gallery, Z-Arts, ComputerXplorers, The Architecture School for Children, Loreto College, MCFC, MMU, the International Society, the University of Manchester, Citywise, Recyclebees, Manchester Music Service, Dodgeball England, Ho-Shin-Do Karate and M&M Theatre.
Webster has been in a process of expansion in recent years and is currently designated as a three form entry school with capacity for 592 pupils. As of September 2023, we have two forms in Reception, Years 1, 2 and 5, three forms in Years 3,4, and 6, as well as a 52 place Nursery.
We are proud to include 7 pupils with Autistic Spectrum Disorder/Speech and Language Impairment in our Resourced Provision, the Rainbow Rooms.
Our site has undergone a complete makeover in recent years. The original 1973 building has been re-modelled, refurbished and re-roofed to create a fresh and bright environment which is much more suitable for 21st century education than the original design. A second building comprising 8 new classrooms and a spectacular hall opened in September 2018, and an extension to the front of school including a new main entrance, bespoke Music Room, Library and administration block followed a year later. Our mature and spacious grounds feature an Outdoor Classroom, Forest School area, all-weather sports pitch, an eco-garden and several outdoor stages, play platforms and adventure trails.
We may very well be biased, but Webster children are the funniest, keenest to learn, kindest and loveliest bunch we know. They are simply the best to work with. Our teachers and teaching assistants, meanwhile, are loyal, talented, dedicated, passionate and highly trained. We're lucky to have them.
Our learning has achieved local, national and European accolades in recent years. Our pupils have appeared on several TV programmes, have composed poems live on Blue Peter, been featured on BBC Radio 4's Woman's Hour programme, participated in the Manchester International Festival's Walk With Amal event and a ceremony dedicated to the National Holocaust Centre at Westminster Abbey.
On April 1st 2013 Webster converted to single Academy status after a long period of consideration and consultation. We are not connected to any trust or federation but are self-governed. Webster is a founder member of the Heart of Manchester partnership of 8 schools in Moss Side, Hulme and Whalley Range who support each other to improve teaching, learning and educational outcomes for the children in our community.
On this website you can read about the fascinating history of Webster Primary School and Webster Street School. We are proud of our heritage in this community which stretches back to the 19th century and the 'playground on the roof.' If you have any memories of being at this school, we would love to hear them. Feel free to email them to admin@webster.manchester.sch.uk.
You'll be able to see some of the things we do by clicking on the various links, but what most visitors comment on is the warm atmosphere and the family feel to our buildings. That's tricky to feel through a website, so you'd better come and visit us to see what we mean. If you are considering sending your child to our warm and friendly school, please give us a call!
Mr Jackson