No.1 Spinningfields Project
A music project took place during January and February as part of a collaboration with Manchester Camerata, BAM construction and other Heart of Manchester Partnership schools. Pupils from Year 5 have been working with musicians from Manchester Camerata to compose and perform a piece of music at the topping out ceremony of No.1 Spinningfields on 17th February.
This 20 floor skyscraper in the heart of Manchester's city centre was to be completed in the summer. http://no1spinningfields.com/
17th February 2017
Travelling in a BAM Construction hoist and performing their own musical composition on the 19th floor of No.1 Spinningfields ... not your average Friday! The views from the top of the building were amazing and the children performed brilliantly- they were fantastic representatives of our school.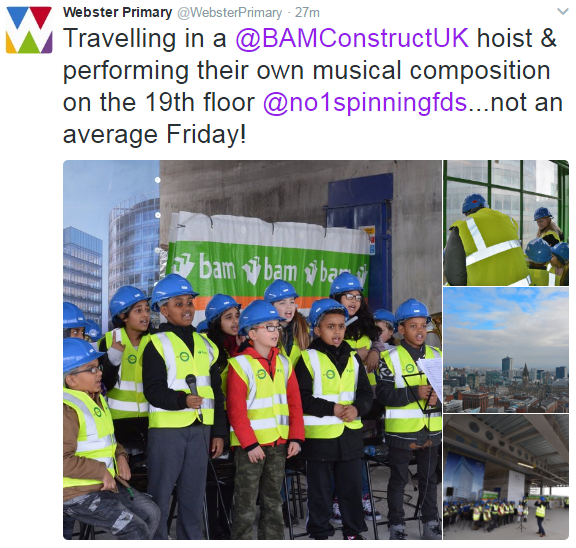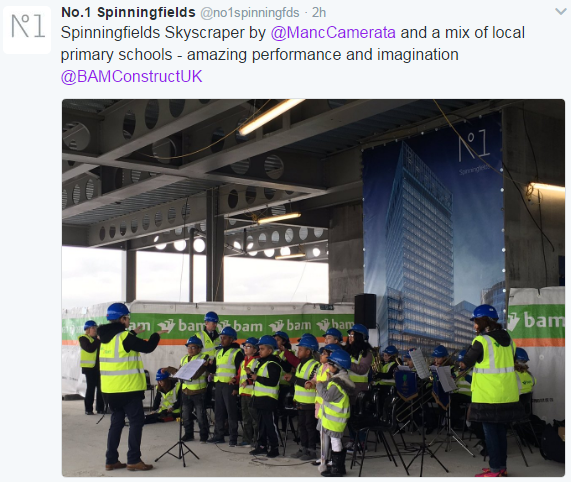 1st February 2017
Rehearsals are well under way- the lyrics have been written and fine tuning has been taking place this afternoon. The music composed by the children is being played by Eve and Amina from Manchester Camerata alongside a fantastic brass band from a school in Bury.
20th January 2017
A group of Year 5 pupils visited the construction site of No. 1 Spinningfields to learn more about it's construction and seek for the project. They visited the marketing suite which has a platform from which they could see the work of the tower cranes and the different construction teams. Best of all, the tower crane's lifting gear was lowered (very carefully) right to their feet. Impressive!