Lovely things people have said about Webster!
Through this page we will share some of the fantastic feedback we have had about our school!
'Her dad and I want to take this opportunity to thank the school for all the effort you've put in during the last years to make our daughter feel at home and all the support she's received in her studies to allow her achieve such high attainment. Thank you very much for everything.' Parent September 2023.
Francine, the Bursary Foundation tutor, has just told me that our children have been 'beyond wonderful! They are full of enthusiasm, have completed all their homework and are working extremely hard in the session and out of all her groups they are perfect!' and '

The children are an absolute delight to work with and I have been blown away by their drive, motivation and enthusiasm!'
'Thank you for giving me an opportunity to work with your school. I achieved my goal through this platform for example now I have the ability to manage the group if pupils deal with challenging behaviour and also helping children who need extra support to complete tasks and gain many other skills which are significant for a teacher assistant. I enjoyed working with children and teacher Mrs Wright. I would like to work at Webster Primary School in future if I could get an opportunity. I would like to say proudly the Webster Primary School is the best place for new learners.' S. Kulsoom, Trainee Teaching Assistant
I wanted to take a moment to share with you my incredible experience at Webster Primary School today. It was an absolute delight! I had the pleasure of working with Year 1 students who were full of energy and enthusiasm. I thoroughly enjoyed my time with them. Year 5S also left a lasting impression on me during my pervious engagement at Webster Primary. Webster Primary School has left an indelible mark on me. The positive atmosphere, dedicated staff and the students' genuine thirst for knowledge make it an exceptional educational institution.
Chun, Teaching Assistant, Just Teachers
Lastly I would like to thank you for your patience and kindness shown towards my children. They can be a handful and although there have been ups and downs within school, generally they have had a pleasant time within Webster primary. I would also like to thank all of the boys teachers this year for their continuous support, we as a family much appreciate the support. Parent, May 2023
Oksana from Greenheys Adult Learning Centre came in to observe a student teaching assistant, and on her way out, she commented on how lovely our school is and how nice it is to see children's work up around the school. She said, each time she comes to our school, it has a lovely feel to it and is a great environment to be in. N. Wright, Year 1 Teacher
'What a lovely school with such wonderful staff. They couldn't do enough to help us. We've had a lovely day. You don't get that in many schools.'
NHS flu vaccination team January 2023
Thank you! What a lovely school! Nicole & Ella, Photographers at Kittle Photographic, November 2022
Thank you again for having me as a guest speaker for Today's Race Equality session. I had an amazing time, and the children were wonderful and such great questions they asked. This opportunity has brought me a lot of joy today, even more so with it being during Black History Month. All the best to you and those wonderful children. Annwen Johnson, HMRC, October 2022
I would like to thank you, Sabeen, Clair and all the staff at Webster for the support and opportunities given to me during my time here. I have really enjoyed being part of the Webster community. I have always felt like a valued member of staff at Webster and I'm grateful for the many opportunities for personal and professional development. B. Mohamed, July 2022
Just want to say a massive thank you to everyone for your generous gift and all your support during my time at Webster. I've met some amazing people and I hope my next school has as many incredible and funny people as we have here. I've learnt so much and had so much fun, I couldn't have asked for a better first 'proper' job. R. Nazari- Nouri, July 2022
Just a quick email from Hannah and myself to say "thank you" for hosting NHEG this morning. It was a pleasure to meet you, your colleagues and, especially, your children. The children were well prepared, well behaved and a credit to the school. We were pleased to be shown some of the work the children had done - especially on the Nuremberg Laws. Again: well presented and great content. And such good handwriting! Ernie Hunter, Chair, Northern Holocaust Education Group, July 2022
Just a very quick email to say how brilliant it's been having the kids visit us recently and reconnect with our creatives, exhibitions and collections. From Ashley booking printmaking in December to Gemma coming in at January for Music to Stacey embarking on a Drawing quest, they've all been fantastic to work with and the children really have done themselves and your school proud.
S. Roper, July 2022, Whitworth Art Gallery
I would like to thank you for letting come to your school last week. It was a great experience!
Everyone was so welcoming and friendly, the children were lovely and Miss Allen was extremely helpful!
Thank you very much! F. Zappulla, June 2022
'I just wanted to thank you on behalf of my students at Loreto (and from me too!) for the wonderful experience that they have had mentoring your year 3 students. Today was our last day at Webster for this academic year. Your year 3 students have been delightful: attentive, polite and willing to learn. My students will miss them!' Cristina Benavides, Loreto, Manchester
'It is lovely to know that my granddaughter is so well cared for. I wish to thank the school.'
KS2 grandparent during a meeting March 2022
What a fantastic start to World Book Day week... I had an absolutely wonderful time, and the energy, contribution and laughter from your pupils (and teachers) was superb! I trust the feedback has been good too, and certainly the comments that I received from pupils and teachers have been terrific. Please pass my thanks on to all the teachers for their support, I hope they enjoyed themselves too. Special thanks to Miss Hani for looking after me throughout my visit. The response from your young readers was amazing. I have been invited to almost 2,000 schools and that level of engagement from parents is quite special. To allow their children to buy so many books was fantastic (this doesn't happen in every school, regardless of demographics or size), and I believe this demonstrates the level of trust that parents have in the ethos and leadership team at the school. Walking around the school, there is a creative vibe throughout, with a special focus on reading, and the pupils were a joy to work with. I am sure you will have an awesome World Book Day! Stuart Reid, Author, March 2022
I have no point of comparison, as this was literally my first time in a school, but I do think that Miss Kalantzi made for a great mentor. She was supportive, knowledgeable, and empathetic. She was also very modest from the start, I learned a great deal from her. Be it classroom management strategies, fantastic (and very well scaffolded) lesson resources and her breadth of knowledge in all the subjects taught. Miss Kalantzi is very dedicated to the children's success, which is very enthusing factor for anyone working alongside her. The bar has been set very high indeed for me, I can only hope my next placement would live up to it. We had an informal de-brief conversation pretty much after every lesson I delivered, which was really useful (timely feedback is the best feedback). Our official weekly lesson observations were always really detailed and included constructive and actionable points which I could always act upon right away. I felt supported and trusted.
I hope other UoM trainees coming to Webster would have as nice of an experience as I did.
Mr Lipnitski, Universtity of Manchester PGCE trainee
'I'd like to add my congratulations on the award of Arts Mark Platinum. You and your colleagues should be very proud.
Nick Paul, Strategic Lead for NQT Induction, Teacher Development and Curriculum Projects, Manchester City Council.
'The children were totally engaged and asked very insightful questions!'

Aleiah's Adventure performer, 5th October 2021
A email from a parent of a year 4 pupil:
'It is a very bittersweet experience for my child and I leaving Manchester and Webster, as it never felt easy for us to live in England alone without a strong support system.
However, Webster gave me confidence and the support I needed to get through this rough time. Please, continue to do that for a mum like me and the rest of the parents who need further support in the school system.
Thank you for everything. I will never forget what you all did for us.'
'I am always pleased to tell everyone that Webster is a very supportive school.'
P. Smith-Manchester City Council
Parent email about our the new newsletter written by our Arts Ambassadors:
I love the art newsletter!
Brilliant idea. Great to see what has been going on. Hope this is a regular thing.
Take a look at the newsletter here: https://www.webster.manchester.sch.uk/our-school/webster-weekly-201314
An email from Councillor Gary Bridges, April 2020:
Thank you. In these difficult and strange times I wanted to thank you for everything you are doing to support the children in your school.
I have been so impressed at how schools and nurseries in our city have stepped up to the disruption and to the huge challenges to make sure that children are supported; their welfare prioritised, and opportunities to learn given wherever possible.
For many schools like yours this has involved going above and beyond, and staying open over what should have been the Easter holidays. This is an incredible commitment.
As the city and the country battles the health crisis, key workers in our health services, social care and vital grocery stores are needed like never before. Your decision to stay open for those families who need to access your school are crucial both to those families and in turn, to all of us.
On behalf of Manchester City Council I wanted to extend thanks for everything you are doing. In these very difficult times it is reassuring to know that children in our city - both those in school and those at home- are being cared for and that schools like yours are staying open to allow key workers to keep going.
I know that the Director of Education is in touch daily but if there is anything you need please don't hesitate to get in touch.
A message from Researchers at MMU and Eskisehir Osmangazi University (Turkey):
After we get our child from nursery every day we walk along the street that your school is located on. We had a chance to observe your school. When school is over, your students appear, they gently walk and they always look cheerful and happy. We further investigated your school on this occasion and found that you are one of the successful schools in Manchester.

We have been in Manchester for six months to complete research and we want to learn the secret of successful schools.
We are wondering what you are doing throughout the school and how are achieving this success.
In fact, our research goal is to examine how successful schools like you have developed their school and teachers.
Feedback from a parent:
My daughter attended Art and Science after school club last term, it was run by Mrs Shirtcliffe I believe. My daughter really enjoyed attending the club and was eager to share what she learnt when she got home. Even now the club has discontinued she still talks fondly about it. I just wanted to say thank you to the teaching staff and i hope it returns again in the near future.
A message from a group of teachers who visited us from Aalborg in Denmark recently: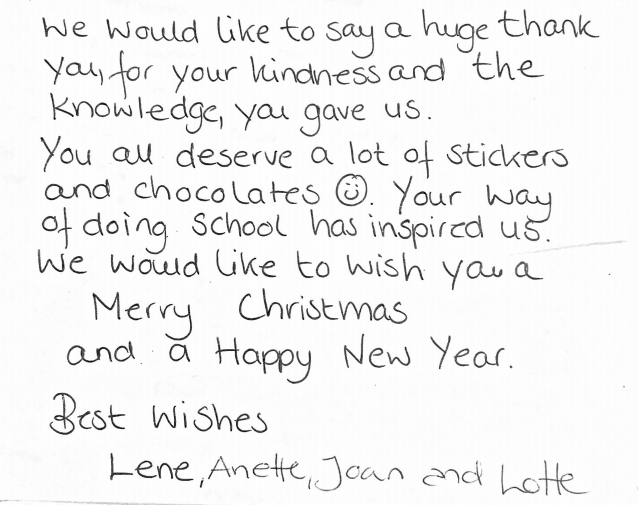 "A lovely school and what a beautiful bunch of children!" Stephen Mulhern, Presenter.
Thank you for attending the Green Summit. I hope the pupils enjoyed the day listening, learning and taking part in the event.
It was lovely to meet the pupils from Webster Primary School.
I led a table discussion in the afternoon in the 'public sector space' on waste crime which your pupils took part in. I was very impressed with their knowledge of the environment and understanding of what they can do at home and school to help reduce waste; encourage recycling and protect and improve their environment. They asked some great questions and had great ideas which will be incorporated into the 5 Year Environment Plan (Sustainable Consumption and Production: 'Let's Get Rid of Waste').
Jane Sansbury: Waste Crime Engagement Specialist, Environment Agency.
Feedback from work experience students:
Thank you for offering the opportunity for me to spend a week on work experience with you; it was highly enjoyable. I was able to develop a variety of new skills such as communication. And I have gained a valuable insight into teaching young children from this experience.
Yourself and the other members of staff that I have worked with during the week were extremely welcoming, helpful and gave me lots of useful careers advice.
This experience has definitely increased my interest in pursuing this career.
Thank you for the amazing week.
Utterly fantastic to see yourself and the kids from Webster yesterday, the children as always were a huge credit to the school. They spoke with such enthusiasm and articulation – the room wasn't the same once you had all left! Steven Roper- Primary School Coordinator, Whitworth Art Gallery
Feedback from Just Teachers: I just wanted to give you some feedback from one of the teachers who are providing mentor cover at the moment. _____ has just called me to say that she had the most delightful Year 2 class yesterday and without exception all the staff she has encountered on the 2 blocks she has covered have been very helpful and welcoming.
Parent feedback: "I would like to take the opportunity of this e-mail to say I'm really thankful for what my child has learned in your school because he has learned a lot from you. Also the support that has been given won't be forgotten, my child has left Webster Primary School but it will stay in his heart. Thanks for everything you have done for us."
Our Hate Crime Awareness event, an overview and feedback!
A kind and thoughtful letter from a parent- January 2018: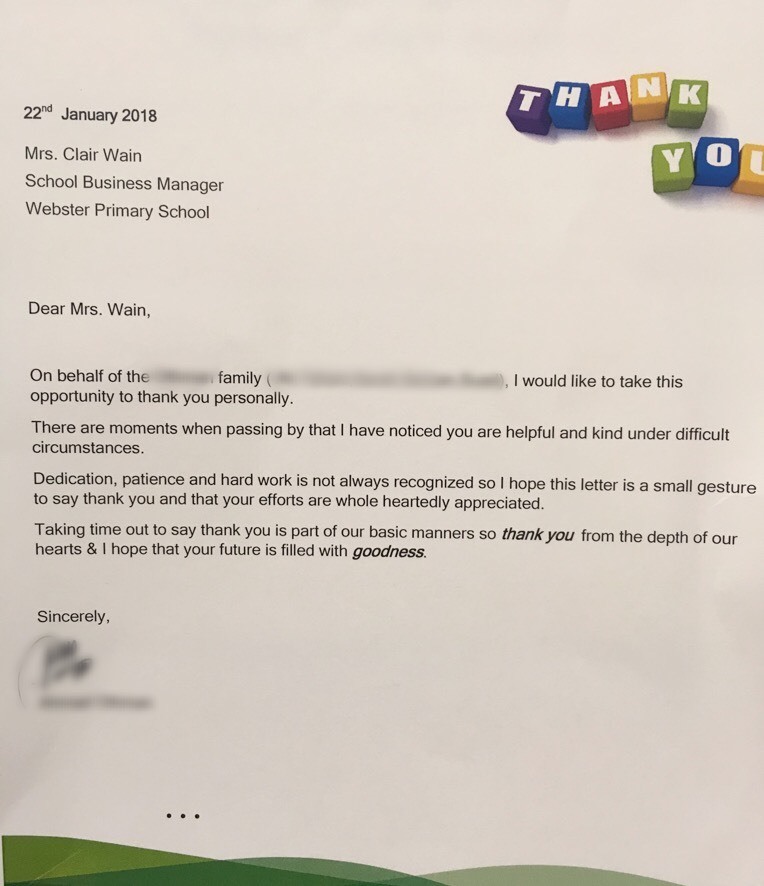 A letter from Mr Dean following Year 6 Citizen workshops: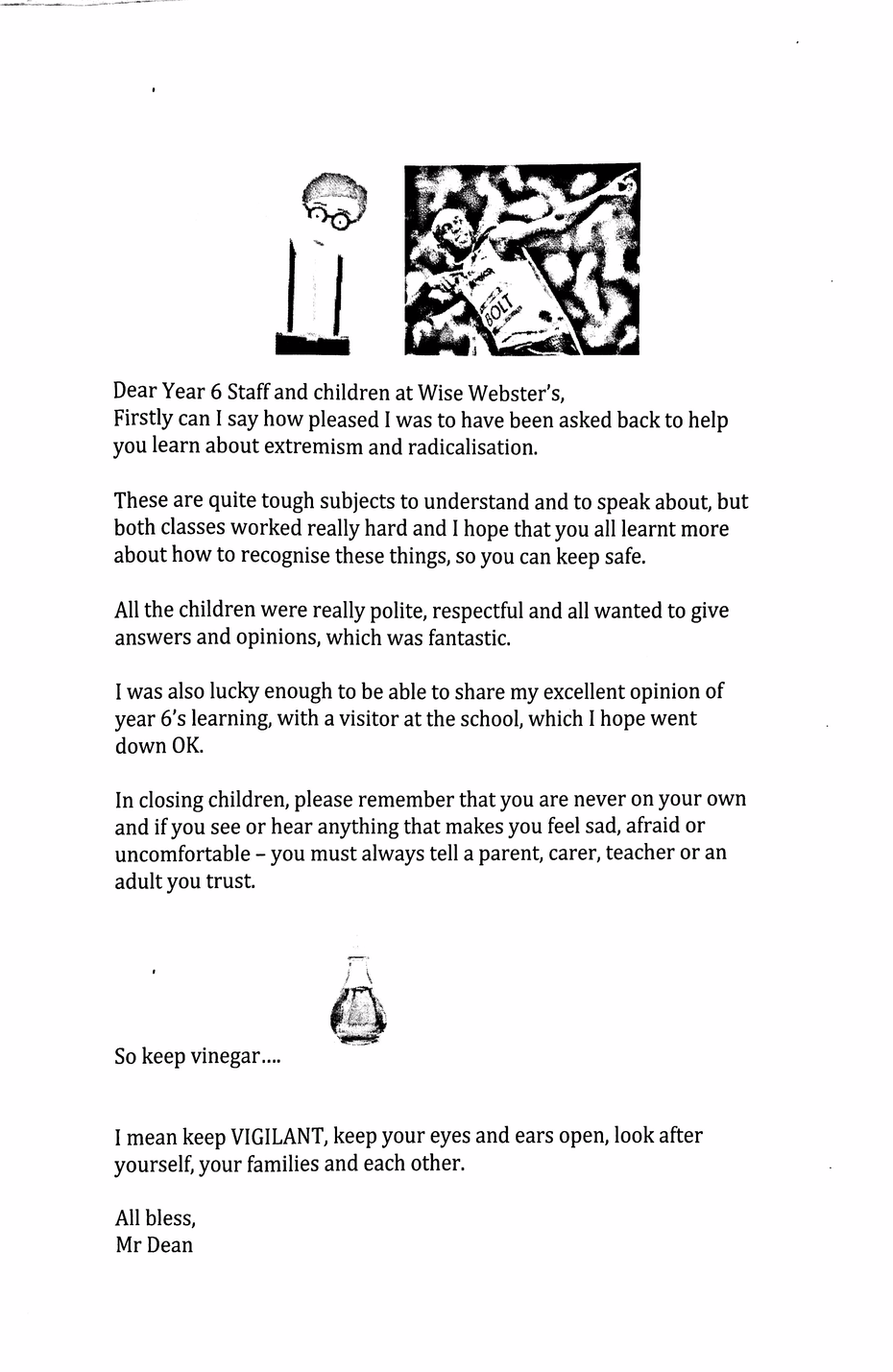 'Thank you for your kind words. Our son is truly happy at Webster and we are both delighted with the progress he is making, it's fantastic we've found a school that understands and meets his needs so thoroughly.' Year 1 Parent, May 2017
'I want to express my sincere gratitude for sharing our daughter's progress. Especially her support of a child with additional needs. You made our day. Many thanks for all you have done for our daughter. I am really speechless and all I can manage to say is thank you.' Reception Parent, May 2017
'We have returned to Sweden but I would like to tell you that Webster is one of the best schools in the UK. Me, my wife and our children miss coming to Webster school so much.' Parent, May 2017
' I am writing to thank you and your staff for the quality of training and support given to one of our students who recently successfully completed her BA2 primary placement with you. She made impressive progress during her placement. We very much appreciate the expert advice and guidance available to our students when on placement in your school. The excellent progress the student made is largely down to the high quality mentoring and tutoring she received. Please pass our particular thanks to the class mentor who I know invested a great deal of time and energy in supporting her.' Corinne Woodfine, Partnership Co-ordinator BA2 SBT Lead
The panel commended your school's high ambitions for arts and culture and the strength of the partnerships you have developed. Your relationship with Manchester Camerata was highlighted and the panel look forward to seeing how you extend this ambassador model across other art forms. Your school has been awarded Artsmark Platinum. Congratulations!
Amanda Rigler, Senior Officer, Artsmark, Arts Council England, March 2017.
That is fantastic news! It takes great leadership, vision and commitment to manage a curriculum that has creativity and the children's wellbeing as its core.
Thank you for believing in us and trusting that we share that vision.
Things will get better still. Well done all. Dave Hulston Artist in Education following news of our Artsmark Platinum Award March 2017
'I just wanted to thank you for allowing me to complete my placement at your wonderful school. I have thoroughly enjoyed my time here and couldn't have wished for a better school. I'll miss all of the staff and children a lot but hopefully I will be back for a visit. All the best for the future.' Emily Hollinshead, MMU Student & Everton Ladies football player, March 2017
'Thank you for helping my daughter become the best version of herself. A school that builds rather than breaks children! A beautiful start to my child's world of education. Thank you for the support you and your team have provided each of us. It's been a very special, very important part of our live has Webster. Thank you for everything and may the new year be filled with great things.'
A Christmas card from a parent- December 2016
A few comments from our recent Parents' Survey:
' I am very happy with how far the school has come.'
' I like everything about the school and have nothing to add because everything is going amazingly, I love my kid's school.'
' My children love coming to Webster and always have so much to share with me on the way home. Any issues I have regarding their school work or behaviour has been met with supportive advice. I've always felt supported as a parents and family.'
' Thank you for every little bit of support you give my children.'
' One of the best schools.'
' Excellent school, Thank you.'
' Very good school, I love it!'
I'd just like to thank you, the teachers and the children for what has been my favourite series of workshops that I've been involved with, and to say that I think that you all do a remarkable job at Webster Primary.
Stephen Nuttall, Illustrator, September 2016
Dear Mr Jackson, Thank you so much for spending time showing me around school today. I cannot tell you what it meant to me to visit again after all these years. I was so impressed with the facilities and the grounds and am in awe of you and the staff who have worked so hard to turn the school around. You have an amazing team who obviously work tirelessly to ensure that the children in your care receive the best education possible. Believing in the children is what makes the difference!

I hope it will be possible to keep in touch and if your children ever want to combine a visit to a contrasting school with a visit to the beach you are more than welcome. We are about a mile away from Cleveleys sea front where there are beach sculptures and a book written about the prom called 'The Sea Swallows'. Just a thought!

Thank you once again and very best wishes to you, your team and the children of Webster Primary.

Gill Finney: Headteacher, Baines Endowed V.C. School, Thornton
I was in a meeting yesterday with Mrs. Hall, and she told me about all of the amazing things that the school does to promote diversity and inclusion. I was so impressed that I had to say congratulations on all of your achievements and all the best of luck with you diamond award - I'm sure you'll get it! You have really inspired me and I hope that one day my school can be as inclusive as yours. Your website is now on my 'Favourites' list so that I can keep being inspired by you and all of the work you do.
Annita Boucher : Lead Practitioner - Geography, Shuttleworth College
We were very proud to achieve the SSAT Educational Outcomes Award 2014 and 2015 for our children's outstanding progress.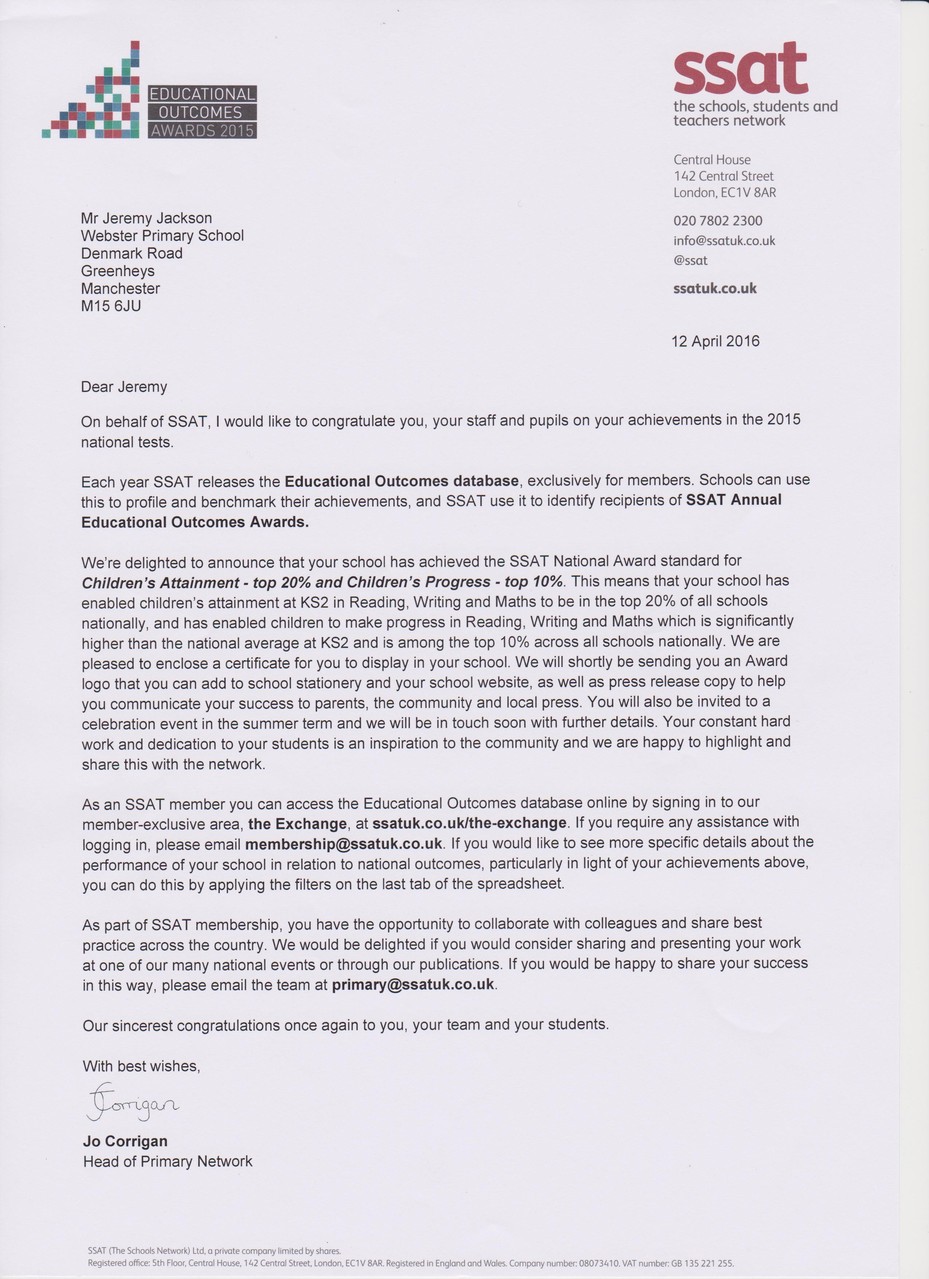 Feedback from Manchester Museum:
"I have had the pleasure of teaching Webster's Year 3 and 4 classes on numerous occasions over the past couple of years. The pupils have always been interested, engaged and exceptionally characterful. Webster classes are reliably brilliant fun to teach, and seem to have a well fostered sense of community that encourages them to courteous to both museum staff and their peers. Webster staff are equally wonderful to work with. I've always found the staff to be incredibly attentive to the needs of their classes, and colleagues at all levels clearly have a a very positive, nurturing relationship with their pupils. This is reflected in the pupil's behaviour and attitude to learning." Jack Ridley, Inflatable Museum Coordinator, Manchester Museum
"The children I've had the pleasure of teaching have been tremendously fun with a fantastic sense of humour and show a clear love of learning- a testament to the sort of positive environment Webster provides for it's children." Matt Hallsworth, Learning Programme Assistant, Manchester Museum.
Feedback from a Change 4 Life event attended by a group of pupils and young leaders, 3rd May 2016:
" I just wanted to send a quick email to thank you for coming to the Change 4 Life celebration event on Tuesday, it was an absolute pleasure seeing so many smiley faces having so much fun. This was a true testament to all the hard work that you are doing with your Change 4 Life clubs and listening to the individual success stories proves that 'Change 4 Life' is having a significant impact not only on individual health and confidence but also in the classroom. The Change 4 Life Champions, who were thrown in at the deep, demonstrated such confidence in working alongside the Loreto young leaders. Please make sure that you are knocking on the door of your head teachers and sharing this good news!!!"
Christine Bland ,
School Games Manager,
Wright Robinson College
Letter from Nick Gibb MP: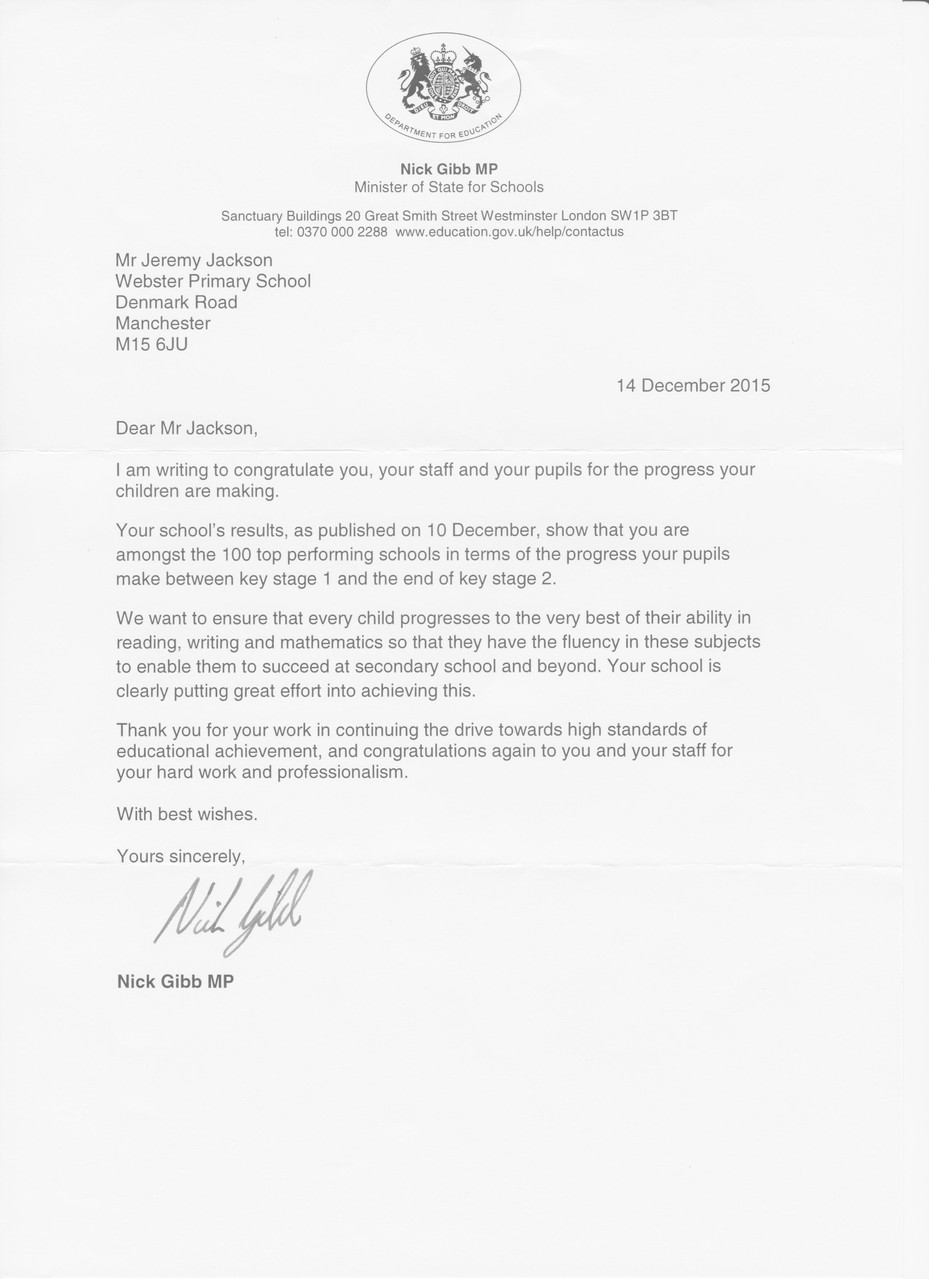 A note from a parent: 4.1.16
"My child has spent a great first semester at Webster, and I would like to
thank you and all his teachers for this unforgettable experience."
Bus review!


A google review from Adrian, one of our fantastic coaches:

A letter of thanks following our Harvest Festival food donation: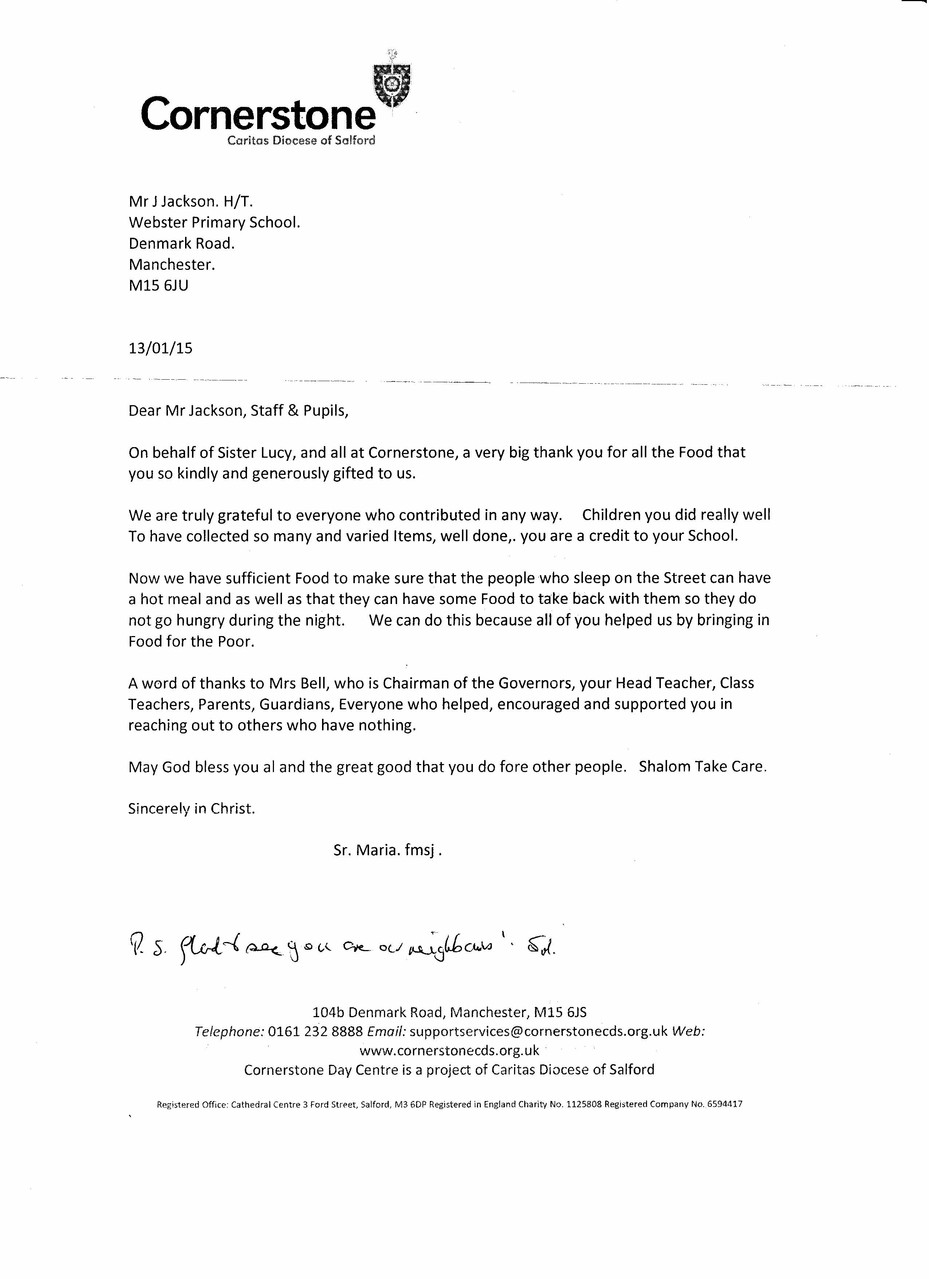 On this young lady's last day with us she gave us this lovely letter: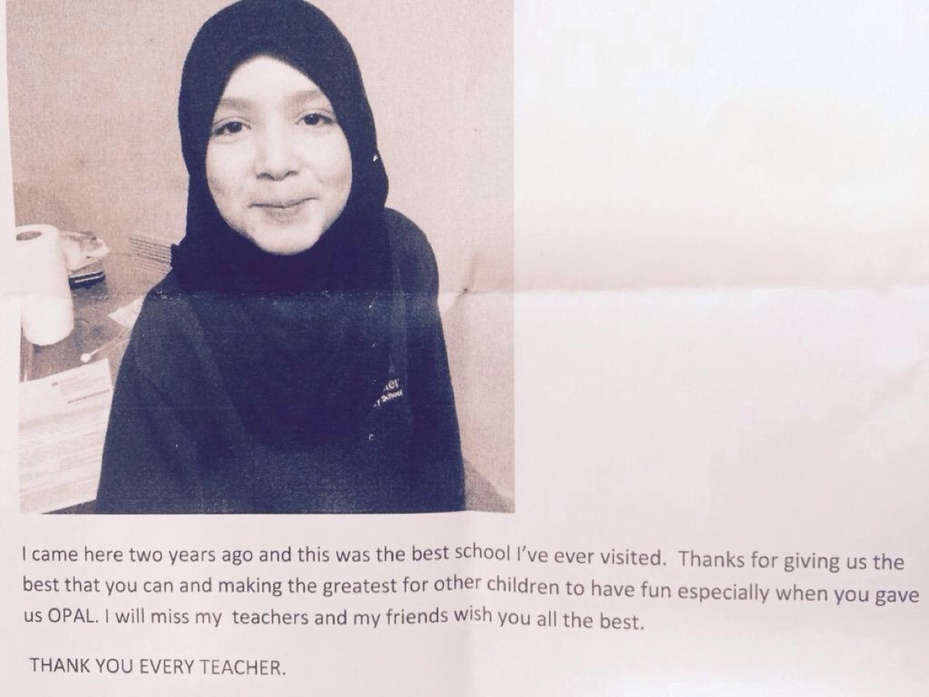 Feedback from a parenting course, April 2015:
Letter from David Laws MP: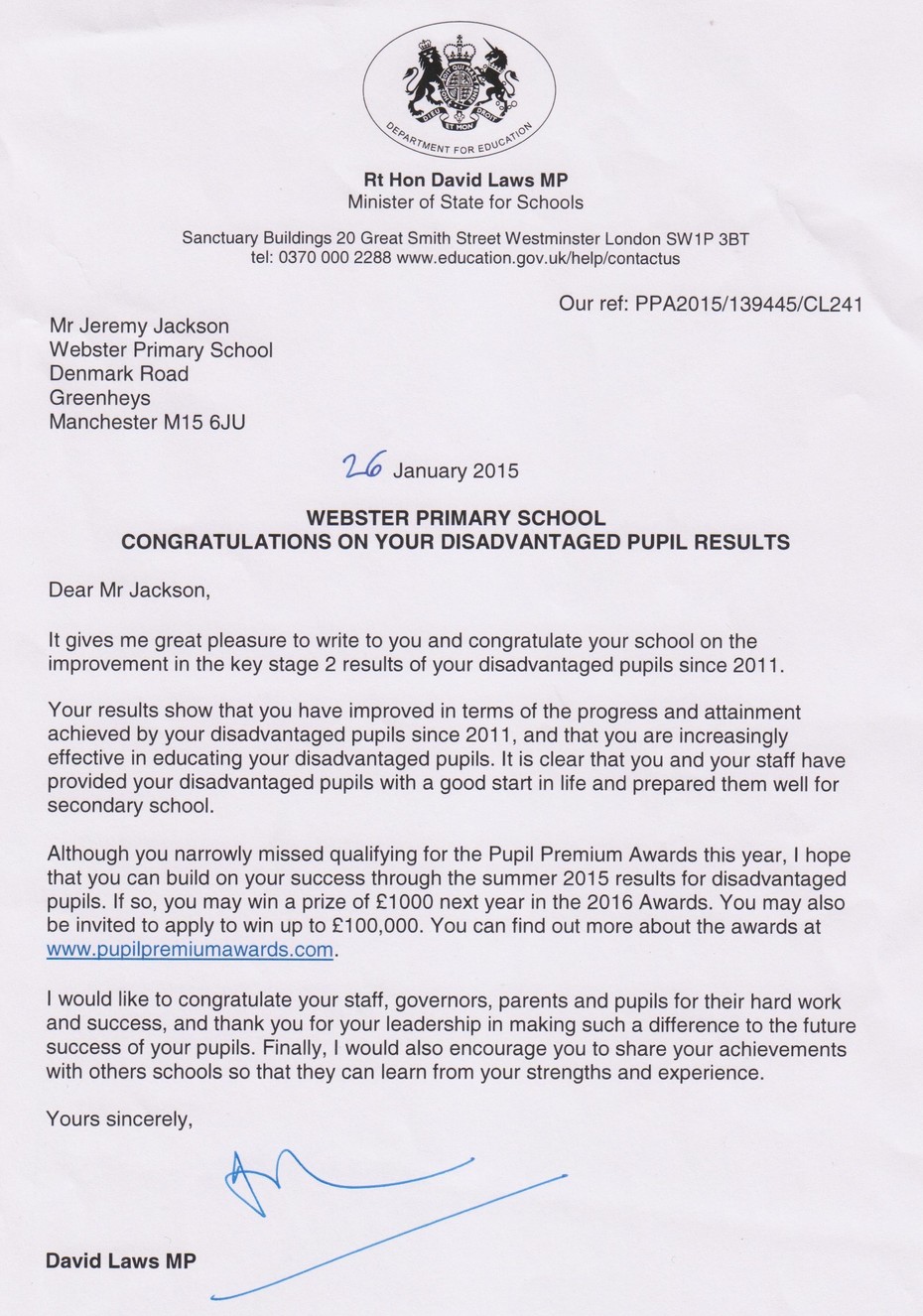 It has been a pleasure working with the children again this year, I really feel that they have enjoyed their time drawing and have produced some great artworks along the way. Thank you for giving me the opportunity of working with your school again; you have a great bunch of children there! Stephen Nuttall- Artist 17.12.14
I live in Sale and read with the children in Year 5 at St Mary's in Sale. My wife and I often accompany school trips and I was one of the helpers today when Webster and St Mary's children were at the People's Museum. Your children were such a credit to your school - so cheerful, polite and positive. I really enjoyed today. I would be really happy to help in any way at Webster. I am retired and worked in industry and then IT development and Student Records in four local colleges. I still tutor with the Open University. Keep up the good work! Mike Milligan 14.11.14
"Many thanks again for your offer of help; everyone here has been praising your school for being a genuinely reliable and dependable friend and partner". Mamta Naik (Senior Lecturer in Education at MMU)- October 2014
Thank you Webster school for your confidence and belief in Emaan. A big thank you to Mr Jackson and the whole staff who were directly involved in Emaan's learning and continuous progress throughout the years. She is definitely going to miss her lovely school, teachers and friends. Parent 2014
Feedback from the Maths Parent Workshop 11.11.14:
"some great ideas to work on and try out, really helpful session, thank you"
"again, another amazing maths workshop at Webster Primary School, than you Miss Essat & Mr Fairless"
"Today was very informative and fun. I've been given lots of good ideas that i'm looking forward to trying at home, especially the games"
" I think it's a good way to teach children how to count numbers and understand them"
"We would like to thank you from the bottom of our hearts for the considerable effort and support you have put in for the new generation. We will really miss Webster Primary School" Parent 2013
"Thank you for allowing me the opportunity to work at your school for the last 2 weeks. I have really enjoyed getting to know the pupils and have learnt a lot from the lovely staff in the Rainbow Rooms. Webster is a great school and everyone made me feel very welcome." Michelle, Student 2014
Feedback from University of Manchester staff following a PGCE science demonstration in 2B: