Headteacher's Welcome
Welcome to our website. We hope it gives you a flavour of life at our school and all the information you need. Do get in touch if you have any queries. Please do look at our Twitter feed and YouTube channel for further snapshots.
If you are not familiar with us, we are an all inclusive school in Greenheys, Manchester. (Greenheys is an inner-city district within the Moss Side ward.) We welcome children of all races and faiths, languages and cultures, and are famous for doing so. We also have Resourced Provision for 7 pupils with Autism. We are a very popular school whose results have risen steadily over a period of years. Children who are with us for a full Key Stage 2 generally attain levels higher than the national average.
Our last Ofsted inspection in March 2011 graded us as good with seven outstanding features. Most pleasingly, 'The quality of pupils' learning and their progress' was graded 'outstanding'.
These are exciting times for Webster (but when was it ever different?). We are moving steadily from a one to a four form school. As of September 2015 we are three form entry in Reception and Year 1, two form in Years 2, 3, 4 and 5, and one form in Year 6.
On April 1st 2013 Webster converted to Academy status after a long period of consideration and consultation. We are not connected to any Trust or Federation but are self-governed.
We are part of a group of eight schools in Moss Side, Hulme and Whalley Range called The Heart Of Manchester Partnership who work collaboratively on school improvement.
Alongside this expansion we have taken back ownership of the whole building (our previous tenants, the Leo Kelly Centre, moved to new premises in February 2012). The building has undergone a complete remodelling and refurbishment (May 2012 to February 2013) to create a carefully planned environment which is much more suitable for 21st century education than the original 1973 design. It includes an Art Room and Music Room as well as a state of the art School Library with a stunning selection of books and computerised lending service.
And did we mention we have a spectacular new roof?
The grounds now feature an Outdoor Classroom, a Forest School area, an all weather sports pitch and an incredible school garden/wildlife area.
We may very well be biased, but Webster children are the funniest, keenest to learn, kindest and loveliest bunch we know. They are simply the best to work with. The teachers and teaching assistants are also talented, dedicated, passionate and highly trained. We're lucky to have them.
We pay rigorous attention to the core skills of English and Mathematics. Most other subjects are taught through the International Primary Curriculum, which we first adopted for 2012/2013 and which is giving us the opportunity to shape the curriculum that is right for our own school community.
We were very proud to achieve the SSAT Educational Outcomes Award 2014 and 2015 for our children's outstanding progress and this lovely letter from the Rt Hon David Laws MP.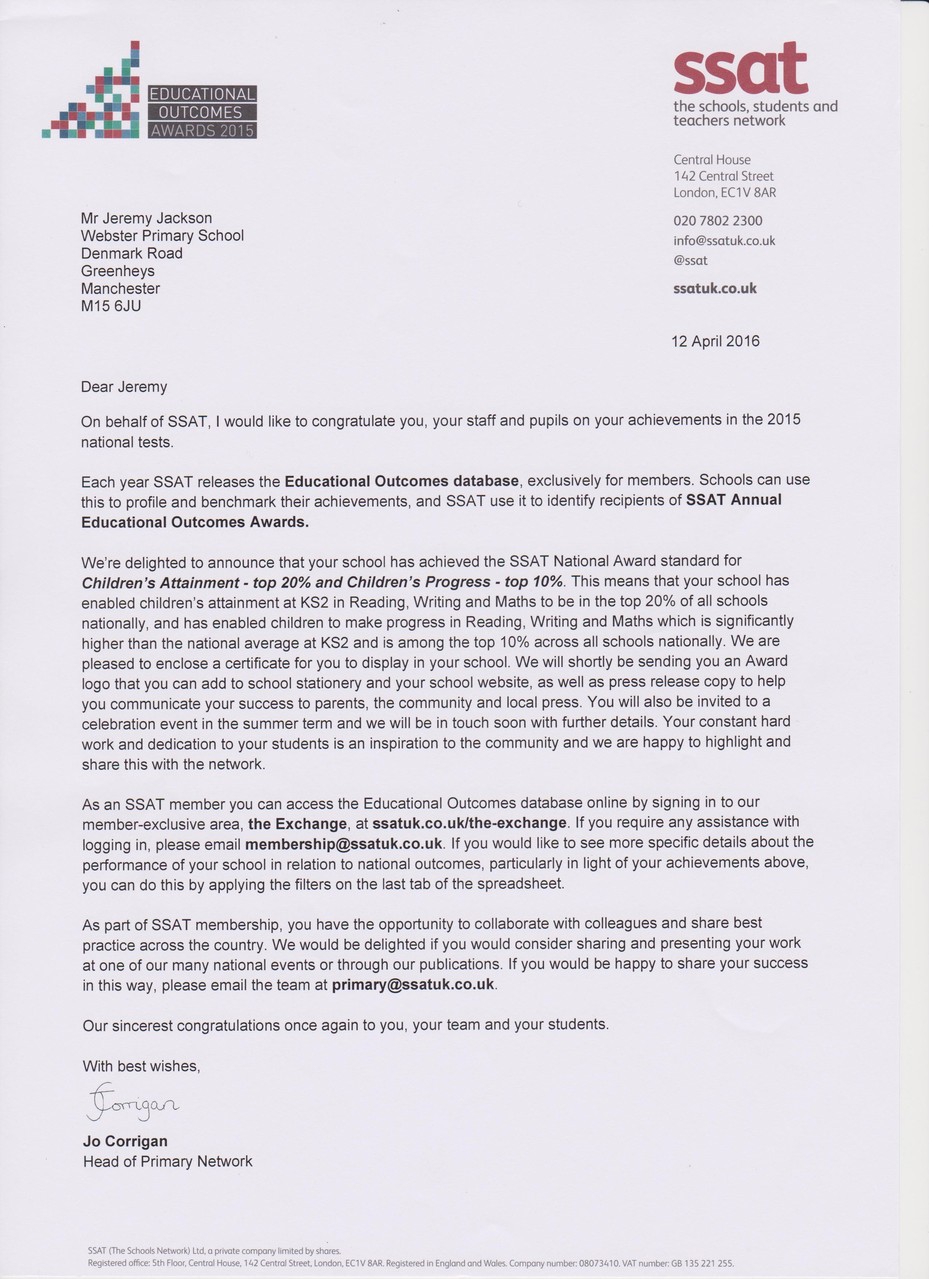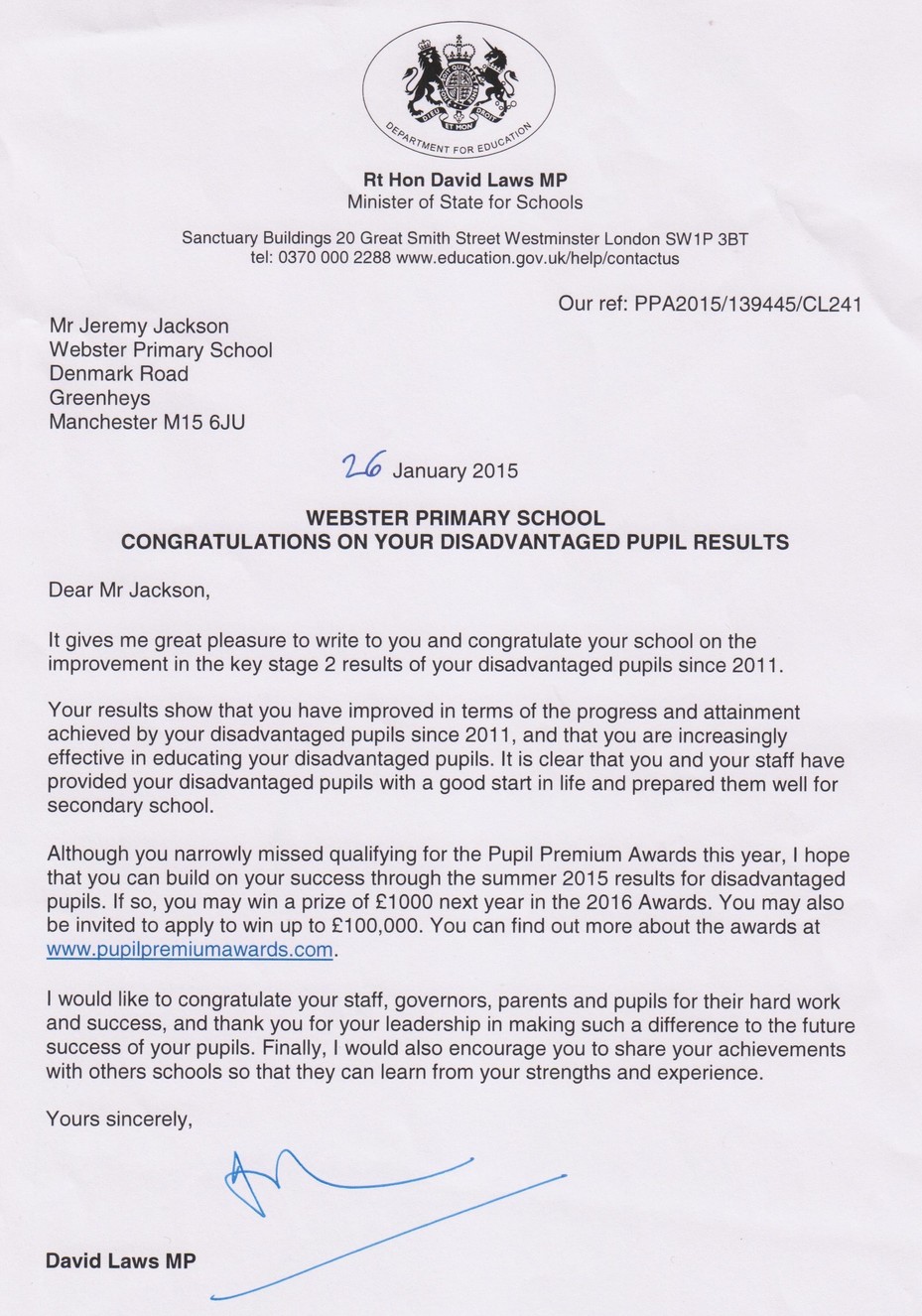 The other awards we hold are reflective of our every day work over a long period of time; the Artsmark and International Schools Award demonstrate our commitment to the arts and a global dimension to our learning. The CDQS is the latest in a long line of Inclusion and Diversity kitemarks which we have held. We were one of the very first Primary Schools in the country to achieve the Diamond Level of this award.
We promote a great range of trips and enrichment activities to add further depth and colour to our curriculum, including strong links with local organisations such as MMU, Manchester Camerata, the Whitworth Art Gallery and our local high schools to name a very few. Physical activities in general, and Gymnastics in particular, feature strongly in school.
Our learning has achieved local, national and European accolades in recent years. Two of our Year6 pupils won the National Holocaust Centre's national art competition in July 2015. Year 6's Horrors Of War project was featured on BBC Radio 4's Woman's Hour programme (November 2013). The 'Our Moss Side' collaboration with Manchester Academy and St Mary's Primary was reported in the Manchester Evening News (July 2013). Webster was the subject of a spread in the 'Eduzine' magazine (May 2013) and our Nursery e-twinning project with a Polish school scooped both the British Council/Comenius UK and European e-twinning awards for 2013.
We have a huge site with our own Wildlife Garden, all weather sports pitch (The TigerTurf), Playgrounds, Adventure Playground Trails, Quiet Area and extensive Playing Fields. We are constantly looking for ways to further develop the grounds; a greenhouse made from recycled plastic bottles, a willow tunnel and arch, and a pond were recently added. As of September 2015 we are developing our approach to playtimes and lunchtimes through the Outdoor Play and Learning Project (OPAL).
There are links on this site to the work of our School Council and Eco Team, while we develop new approaches to pupil voice over the next year.
You can also read about the fascinating history of Webster Primary School and Webster Street School. We are proud of our heritage in this community which stretches back to the 19thcentury and the legendary 'playground on the roof.' Perhaps you are an ex-pupil. If you have any comments or memories of being at school, feel free to email them to head@webster.manchester.sch.uk. We have close links with many old pupils from the 1950's onwards.
You'll be able to see some of the things we do by clicking on the various links, but what most visitors comment on is the warm atmosphere and the family feel to our building. That's tricky to feel through a website; you'd better come and visit us to see what we mean. If you are considering sending your child to our warm and friendly school, please give us a call!
Mr Jackson